How to Wire a DIN Plug Correctly
Date Posted:5 July 2013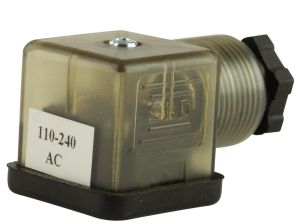 We often find that faults with solenoid valves in the field is due to incorrectly wired or installed DIN plugs. All our DIN plugs carry an IP65 weatherproof rating but this is only if it is installed correctly.
When Installing
Ensure the DIN plug entry faces the ground, this will ensure no water pools on the entry.
Your cable is the correct size for the gromet. This will ensure you get a good seal which will keep out moisture
The cable gland entry is screwed on tightly.
The plugs are not polarity conscious
Ensure the earth is wired to the earth terminal
What you will need
Wire Cutters
Wire Strippers
DIN Plug
3 core cable, correctly sized
Below is a video tutorial to give you a hand.
Fore more information see https://www.valvesonline.com.au/switches_timers_plugs/dpn-din_plugs.
---
Leave a comment