Solenoid Valves


Installation – in accordance with AS/NZS 3500.1, AS/NZS 3500.4, AS/NZS 3500.5
Check the valve label for catalogue number, pressure, voltage and size to ensure it is suitable for the application.
Install the valve with the flow direction as indicated by an arrow on the body of the valve. Although the valve will work in any attitude the optimum position is with the coil uppermost so that solids do not accumulate in the armature. It is recommended that a strainer and isolation valve be installed close to the inlet side to provide protection and assist with servicing.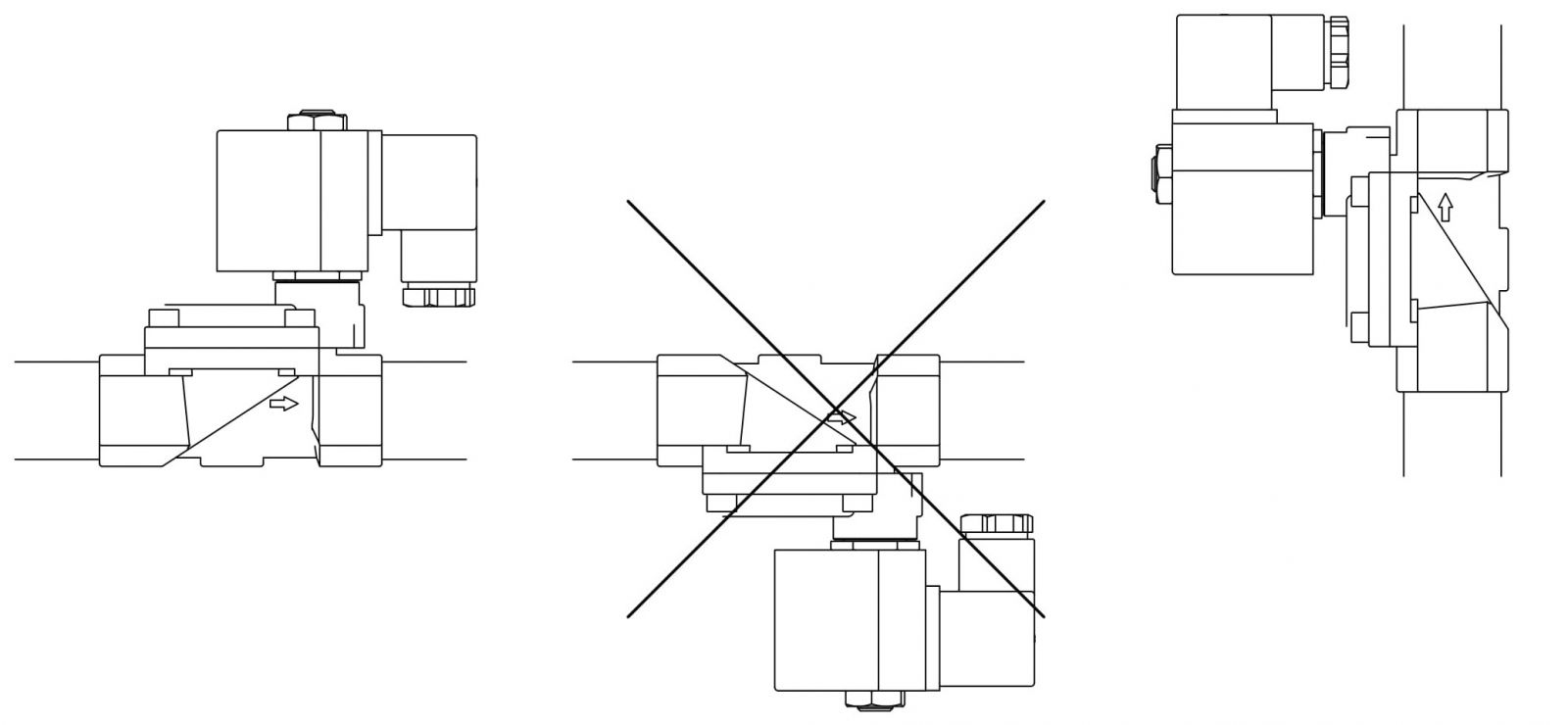 Installation and maintenance should be performed by a qualified person. All electrical wiring should be to AS3000-2008 if installed within Australia or to the relevant local standards when outside of Australia. Plumbing should be to AS/NZS 3500.
The LED indicator light installed in the connector plug will illuminate when power is applied. This is a useful tool for troubleshooting or checking circuit sequence. For further wiring information for the standard LED DIN plug connector click
here,
the Power Saving DIN plug click
here
. For all other DIN plug options, please select them from the DIN plug listing
here
.
Warning: To prevent property damage or personal injury always ensure that the electrical power is turned off. The supply fluid should be isolated and the valve body vented back to atmospheric pressure.
Maintenance
It is not necessary to remove the valve from the pipe work for maintenance or repair. Suitable repair kits can be ordered.
All solenoid valves should be cleaned periodically depending on the water quality and service conditions. When a valve is clean, you can hear a small metallic click as the armature operates. Excessive noise, sluggish operation or leakage will indicate that cleaning is required. Replace any worn or damaged components. Cleaning of the strainer is recommended at the same time. The valve should be operated at least once every 4 weeks and checked for leakage and performance.
Temperature Rating
It is normal for the solenoid coil to reach quite high temperatures when continuously energised (55
°C
– 75
°C
).
This heat has to be dissipated into the atmosphere so it is recommended that you provide adequate ventilation and shielding from any external heat sources. Do not allow water to freeze within the valve or pipe work as damage can result. Either lag all exposed pipes or drain the system if prolonged freezing conditions are expected.
Process Systems Pty Ltd 1300 887 880 www.valvesonline.com.au