Premises


Process Systems moved into its custom built state of the art premises in April 2013 after spending 15 years in its previous premises at Hemmant. We set out with two objectives in mind; to be close to our current position to service our local customer base and to create a sustainable and environmentally friendly factory.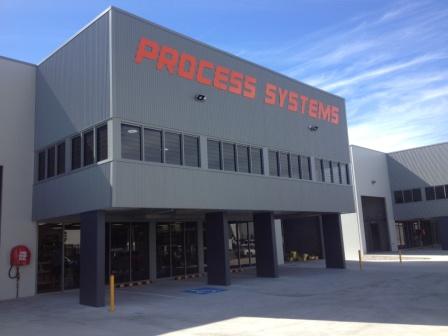 Front view of the factory.
Did we achieve this? We certainly think we did. The building created is a net positive electricity generator, runs off rain water (except for drinking which is legislated by our local council) and harnesses the wind for cooling and sunlight for lighting. This results in very low operating expenses, low maintenance and a great working environment.
Lighting
On a fine and sunny day which we have an average of 245 days a year here in Brisbane we have absolutely no lights turned on in our building. This is because it is set up to use natural lighting throughout the office and warehouse using a product called Solatube. These daylight systems harness the natural light from all angles and direct it through the roof and then disperse it in the space below. Even from a height of 8.5m which is our warehouse we receive even natural light with now shadows. No flickering, no changing bulbs, no turning on or off the lights when you come and go. If we do need lighting it is all LED even our highbays.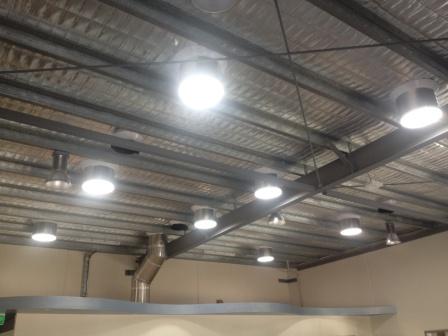 Solatubes providing natural daylight to our office.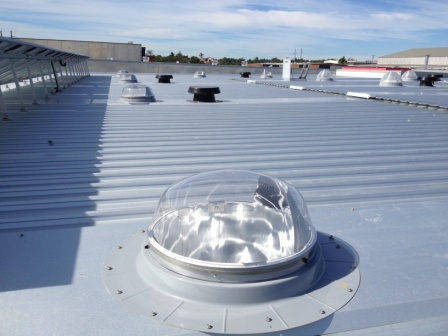 Solatube Roof Entry
Cooling
Not running air conditioning in our offices which is in the sub tropical environment of Brisbane (average 3pm temperature in summer months of above 27 degrees Celsius) looked on the outside as a crazy idea. Our first line of defence is the aspect or positioning of the building. It is northerly facing which harnesses the summer breeze through four container size roller doors. This provides immediate ventilation to the whole building when there is enough heat inland to create a thermal breeze (summer breeze only happens when it's hot). To add to this our offices are hidden from the summer sun and the temperature in them is regulated by a large thermal mass, polished concrete. This in itself is not enough to create a workable office environment so we have added 28 banks of Breezway Louvers, another great Australian made Product. We run our office airconditioning on average 20 days in the year and usually only between 12pm and 3pm.
Banks of Louvers in the office
But what happens when it is hot, sunny and no wind? Well we created our own artificial breeze by combining the louvres (inlet) with Solar Powered roof ventilators. We have six of these in the office and another six in the warehouse. When these are on (we have an override button which breaks the circuit to turn them off in winter) and the louvers are open you can feel a light cooling breeze which is enough for us on hot days.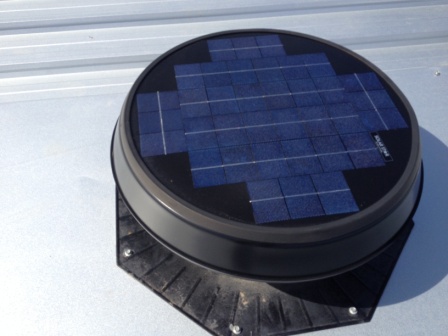 Solar Powered Roof Ventilator in situ.

We are avoiding recycling germs through air conditioning units so when one person in the office is sick it doesn't spread as it would otherwise. A healthier working environment and less sick days is the result.
Power
We generate enough power to offset what we use. This is done through a 6.5kw honeycomb solar array with a 6kw inverter. This feeds back into the grid which gives us a 16 cent feed in tariff when we are not using or have surplus power. This is enough to run an office (we have no server on site as it is in the data centre), power two battery operated forklifts, fridge and other general power usage. Remember we have no lighting or air conditioning to run on most days.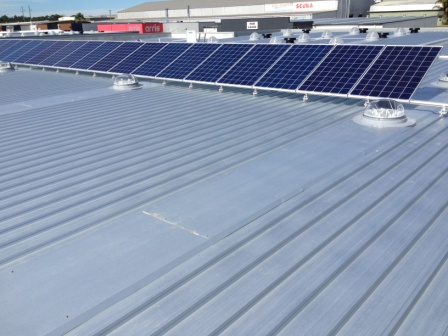 Solar Panel Bank
Water Harvesting & Purification
The factory is fitted with dual reticulation and a rainwater switch over bank. This draws from 35,000 of rainwater storage which is enough to run the toilets, hoses, taps and any other water that is used. In reality we don't even need to be hooked to council water mains as we have over 2000 square metres of roof for a collection point which fills the tanks in a matter of minutes during a down poor.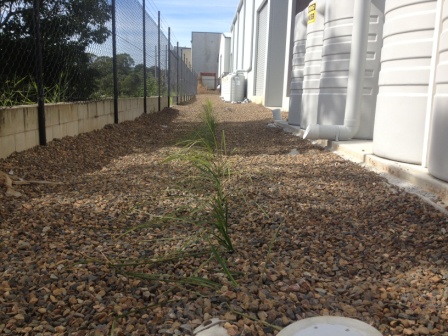 Rainwater tanks with overflow into bio retention basin.
All excess water not captured (run off from hard stand areas etc) is put directly into bio retention pits where it is filtered by native grasses (lamandra and isolepis nodosa) which take out any excess nitrogen or contaminants.

Bio retention swale from hard stand area
Once it passes through the bio retention basin it then settles in a sediment trap until it makes its way back into our waterways contaminant free.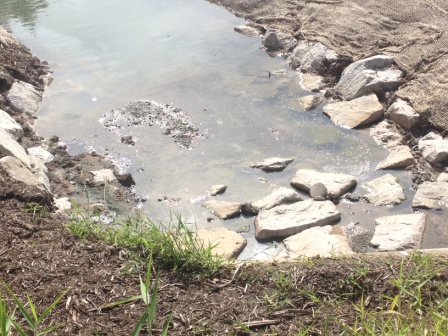 Sediment Trap.
Feel free to contact us if you wish to discuss anything to do with our premises.