Premises


Process Systems moved in to its new custom built state of the art 3,000 square meter facility in October 2017 after outgrowing its previous warehouse. The new premises is just 500m from the old building and includes many of the same features as in the previous but with some improvements. The aim was to have a fully sustainable future proof building that benefits both staff and customers.
Design
Our offices are designed with a true north orientation and are glazed top to bottom. This maximizes solar passive principles (lets lots of sun in in winter and very little in summer) with a large internal thermal mass (concrete floors) to regulate the temperature. On both the north and south aspects are banks of breezway louvers to let the breeze pass through the office. All of this means that both air conditioning and lights are very seldom used.

Lighting
On a normal sunny day no lights are needed in either the office or factory. In the factory polycarbonate strips are run every 10m and in the office the use of glazing and solar tubes eliminates the need for lighting. When lights are needed at night of on overcast days it is provided through LED high bays in the warhouse and overhead LED panels in the office.

Power
Both the office and warehouse are powered by a 20kw solar array with a three phase inverter. This is much more than is needed, however it allows for us to charge our electric forklifts using solar as well. Below is a typical summers day production in Brisbane.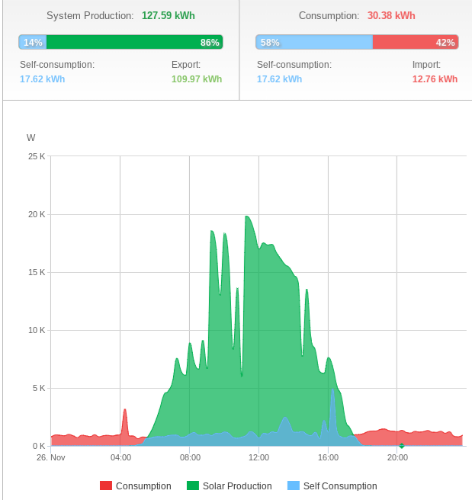 Water
The factory and offices use no towns water supply at all. All water is caught by 100,000 litres of water storage. Every downpipe has a 300L first flush diverter in place as well as a leaf guard. From here it is run through a three part filtration, 20 micron, 5 micron and then a UV tube. Pressure is boosted through a variable speed drive pump however, if this fails pressure is still available as the tanks have half a BAR of head pressure due to being mounted on brackets fixed to the walls. Theoretically the whole system can run without power (except for the UV light).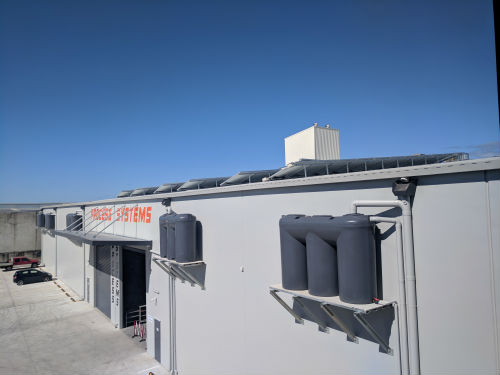 Awards
Process Systems has achieved best practice award from the Queensland Chamber of Commerce ecobiz programme. This certifies business practices and sustainability.